Bewegen im Wasser im Bachelor of Education
Bewegen im Wasser ist im Rahmen des Bachelor of Education-Studienganges für die Schulformen GyGe, HRG und BK dem Modul B7 (Individualsport II) zugeordnet. Das Bewegungsfeld wird in zwei aufeinander aufbauenden Kursen studiert. Bewegen im Wasser I wird demnach im Sommersemester und Bewegen im Wasser II im Wintersemester angeboten.
Im Lehramtsstudium für die Schulform Grundschule wird nur ein Kurs Bewegen im Wasser, jeweils im Sommersemester studiert.
Nähere Informationen zu den zu erlernenden Kompetenzen, den Kursinhalten, sowie den Prüfungsformen entnehmen Sie der entsprechenden Prüfungsordnung.
Sportartenleitung
Theory and Practice of Sports and Movement Fields

Sportspiele, Schwimmen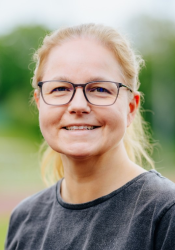 Office hours:
donnerstags 9:30-10:30 Uhr per Zoom (Meeting-ID: 762 548 5490)
Modulleitung B7 (Theorie und Praxis der Sport- und Bewegungsfelder III) im Bachelor of Education und B5II (Individualsport) im Bachelor of Arts
Theory and Practice of Sports and Movement Fields

Sportartenleitung "Rückschlagspiele", Modulleitung B7 (B.Ed.), Sportartenleitung Individualsport (B.A. B5)